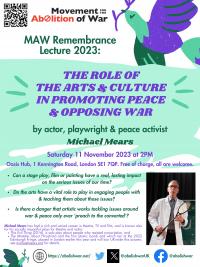 Sat, 11/11/2023 -

14:00

-

15:00
Regular event?:
This is a regular event
MAW's Annual Remembrance Lecture will be held this year in the Oasis Hub Waterloo, and will be given by actor, playwright and peace activist Michael Mears.
Come to hear him explore whether a stage play, film or painting can have a real, lasting impact on the serious issues of our time!
The lecture will follow MAW's AGM which will take place in the same venue at 12 noon.
Organised by:
Movement for the Abolition of War
Member:
Organiser is an NFP member
Venue:
Oasis Hub Waterloo, i Kennington Road, London SE1 7QP
Contact:
sally@abolishwar.org.uk
Wheelchair Accessibility:
Yes, accessible entrance round the corner at 75 Westminster Bridge Road