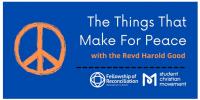 Regular event?:
This is not a regular event
Meet the man who has helped build peace by declaring weapons beyond use. Rev Harold Good was a key player in the Northern Ireland peace process. He acted as an independent witness to the decommissioning of the IRA arms. More recently, he was invited to do the same with weapons used by ETA in Spain.
This is your chance to ask him more about his life and experiences. Find out about his ministry of bringing divided communities together in Northern Ireland. Learn more about his experiences overseeing paramilitary groups weapons decommissioning. Find out about his time as Director of the Corrymela Community Centre for Reconciliation
This event is open to people of all ages and is supported by the Fellowship of Reconciliation and the Student Christian Movement.
Organised by:
Fellowship of Reconciliation and Student Christian Movement
Member:
Organiser is an NFP member